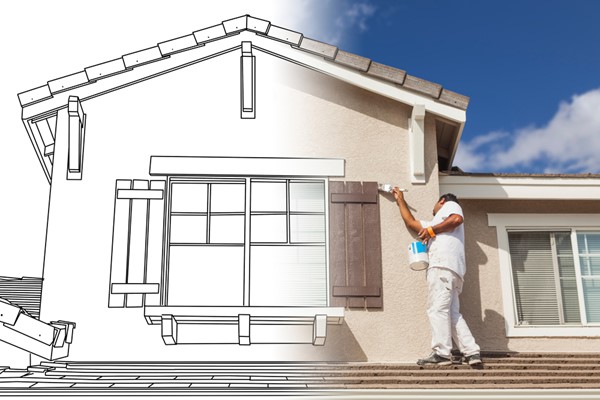 When you first start creating the list of things you need to finish to get your home ready for sale, it can seem daunting. Too much work can throw you for a loop, and you might be tempted to sell your home "as-is" instead. However, just adding a bit of curb appeal can significantly increase the value of the property. You can crack down on that list by starting with these quick and easy items can you do on a weekend by yourself for under a hundred dollars.
Street Address Numbers
One of the easiest and least expensive curb appeal upgrades are new house numbers. You want buyers driving by to see the address easily, so go for clean large numerals that are easily visible on the side of your property. You can get brass or chrome numbers for a shiny effect, or you can get wooden numbers and paint them in the color of your choice.
Front Door and Shutters
A new front door can give your entryway a sense of welcome. You can go for a new entry entirely to improve on the existing style of your home, or you can just try out a new paint job. If you have shutters, you can refresh the paint on those as well. Check with your local paint specialist to find out what kind of paint works best. Make sure you double-check the material your door is made of before you start, or you could end up with just a peeling mess on your hands. For the best look, make sure you tape off any windows and fixtures and then clean up any remaining paint after its all dry.
Outdoor Lighting
You don't need to replace your outdoor lights to make a difference, but you do need to give them a good shine. Take them all apart and remove the dust and bugs that build up under the glass. Switch out your light bulbs for brand new LEDs that will be brighter and better for your electrical bill. If you want to make some changes, outdoor lighting can be purchased and hung yourself for relatively cheap at your local lighting or home improvement store. If you're going to install new light fixtures, be sure to turn off the electricity at the breaker box before you start.
Landscaping
Get your whole family together for this one and start by picking any weeds and removing any dead leaves, branches, and other plant matter. Your kids may want to claim some of it for leaf-jumping piles, but make sure to clean up those piles after they have their fun. Clean up your lawn or replace a dried-out lawn with an alternate material such as mulch that is easier to take care of regularly.
Talk to your real estate agent about the best curb appeal upgrades for your home, so that you spend your money in the right place.